Millie's Pot of Balls - The Best Fried Meatballs You Will Ever Taste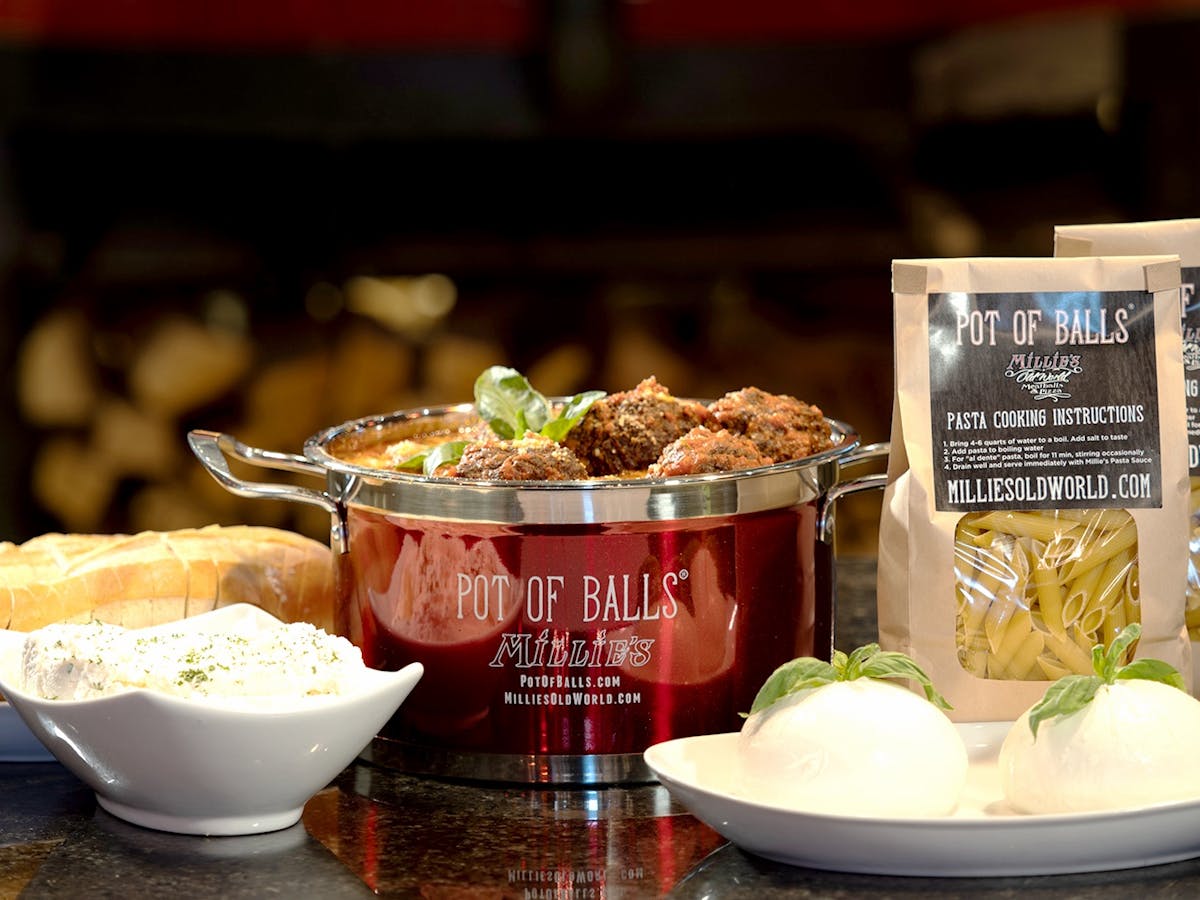 When customers step inside Millie's, they are there for one thing—great food. More specifically, they are there to get more meatballs.
"One day, a customer showed up with an empty pot and asked if we could fill it with meatballs and sauce," says Phil DeJulio, and from there, Millie's Pot of Balls was born.
Millie's meatballs are a unique creation, harkening back to the childhoods of owners Vince and Brandon, whose grandmother Millie always had a pot of meatballs and sauce simmering on the stove.
And not just any meatballs, these were exceptionally good fried meatballs. All day long the delicious smell of fried meatballs and rich Italian marinara sauce would fill up the house. "All of our friends would come to our house just for meatballs," says Vince. "We wanted to share our Sunday experience with our customers."
Now, you can take home that authentic meatball goodness and enjoy Millie's meatballs at home. Bring home the pot of meatballs and reheat, and enjoy with any of their signature sauces: Vodka sauce or Marinara sauce, plus you can take just a tasty box of meatballs on their own.
"We were fortunate to grow up in a family that respects Italian traditions and by opening Millie's, we want to share our love of culinary classics like meatballs and sandwiches," explained the Carrabba brothers.
Inside Millie's you can fully enjoy the authentic meatball experience at the Fried Meatball Station and Cheese Bar at any time with various cheeses, sauces, and fresh Italian Bread. Our meatballs are made with Top Grade Sirloin and the finest imported cheeses we can find.
By bringing Old World food into a trendy, fun environment, Millie's has brought that authentic experience to you when you want to enjoy a night out, as well as creating the to-go Millie's Pot of Balls. Customers now have the convenience of taking Millie's delicious friend meatballs home and enjoying an authentic Italian home-made meal with their families.
With locations in Staten Island, NY and Morristown, NJ, you too can bring home that authentic Italian flavor to enjoy with your family and welcome your family back to the table.
Millie's Old World Meatballs & Pizza is located at
60 South Street,
Morristown, NJ 07960
973-267-4992
Millie's of Staten Island is located at
185 Bricktown Road,
Staten Island, NY 10309
929-284-4004
We can't wait to see you!